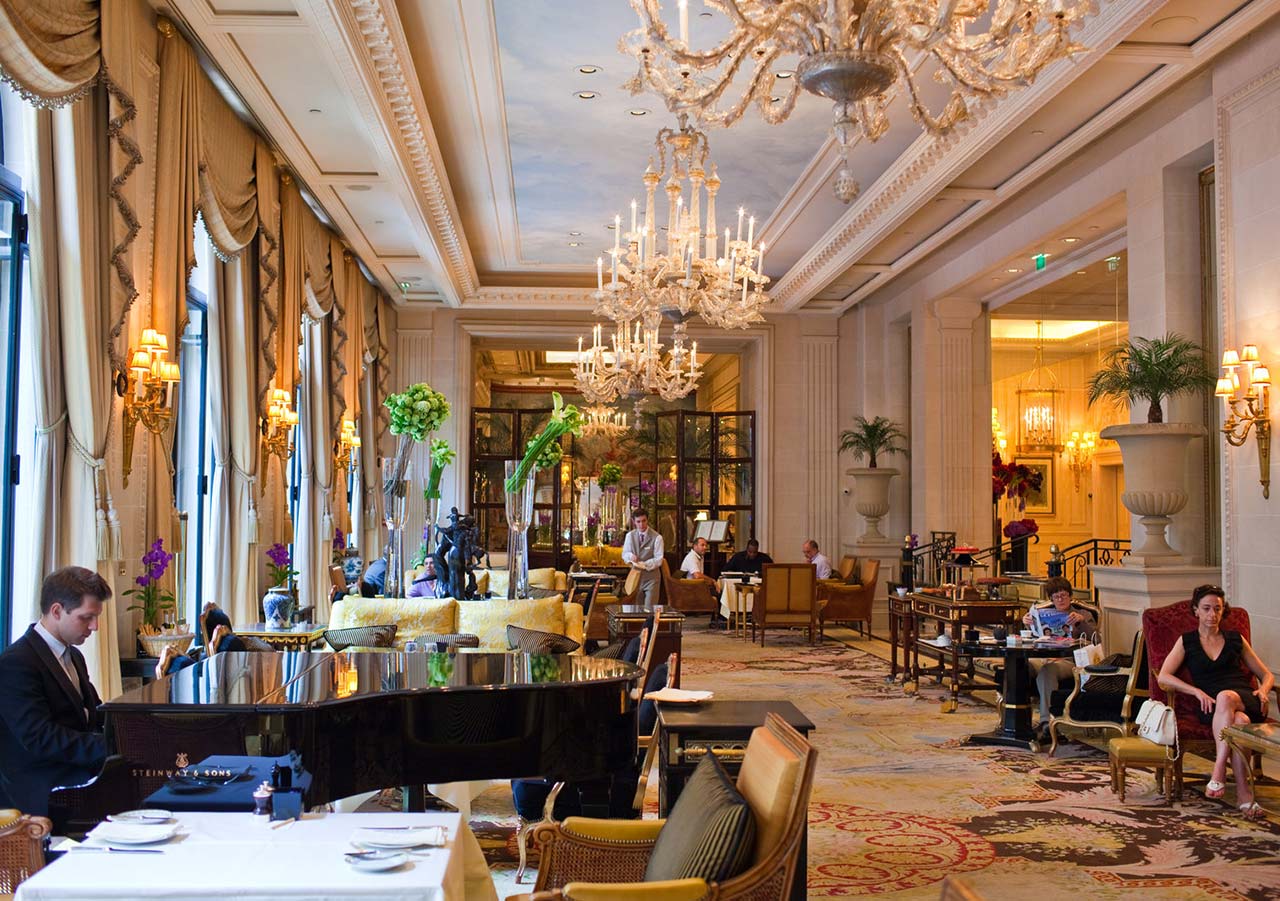 Hotel George V
Hotel Four Seasons George V *****
Hotel George V is one of the most popular hotels in Paris. The hotel impresses us by the atmospher of glory. Hotel George V was built in 1928. In 1997 it was included in Four Seasons` hotels.
Hotel George V is situated in the heart of Paris, on avenue George V, nearChamps Elysees, Arc de Triomphe, Louvre Museum and Eiffel Tower.
You can experience luxury of French traditions and first-class service while staying in this hotel.
The hotel ressembels old Paris with its spacious rooms, lush interiors with fireplaces and classical statues, antique furniture and antique clocks. In this elegant setting, visitors can enjoy the lounges, halls for meetings and conferences, and restaurants. The hotel will impress you not only with its lush interior, designed with a delicate taste but also with its impeccable first-class service.
In the hotel zone you may also find spe-center in style of XVIII-century, that includes indoor swimming pool, saunas, whirlpool baths, steam baths, fitness center.
There are 245 rooms in the hotel. They are all in different ctegories and different styles from Ludovic XVI to belle epoque.
Hotel George V Four Seasons is considered as one of the most original hotel due to mixing of different stylistic solutions, mixing styles and create your own style.
Comfort Tours may help you not only with booking a room in Hotel George V but also :
Limousine service at Four Seasons Hotel George 5*
Driver at disposal at George V
Booking a taxi from Charles-de-Gaulle Airport to Four Seasons Hotel George V 5*
Luxury car rental with driver in Paris (Mercedes S class or similar)
Car rental with driver in Paris (Mercedes E class or similar)
Car rental with driver in Paris (Mercedes V class or similar)
Limousine rental or minibus rental at Four Seasons Hotel George V 5*
Airport transfer from Charles-de-Gaulle Airport to Four Seasons Hotel George V 5*